Size your ev-PV charging infrastructure
EV SCOPE
Your needs
You need to size a large EV parking installation for your company?
You have to write the specification of a new electrical installation for a large charging infrastructure?
Your car policy is changing and you want to integrate a large percentage of electric cars in addition to defining a deployment strategy according to your available power?
You want to size your photovoltaic local production installation according your electrical vehicle fleet increasing program in order to maximise your auto-consumption?
EV SCOPE is the answer to all of these requests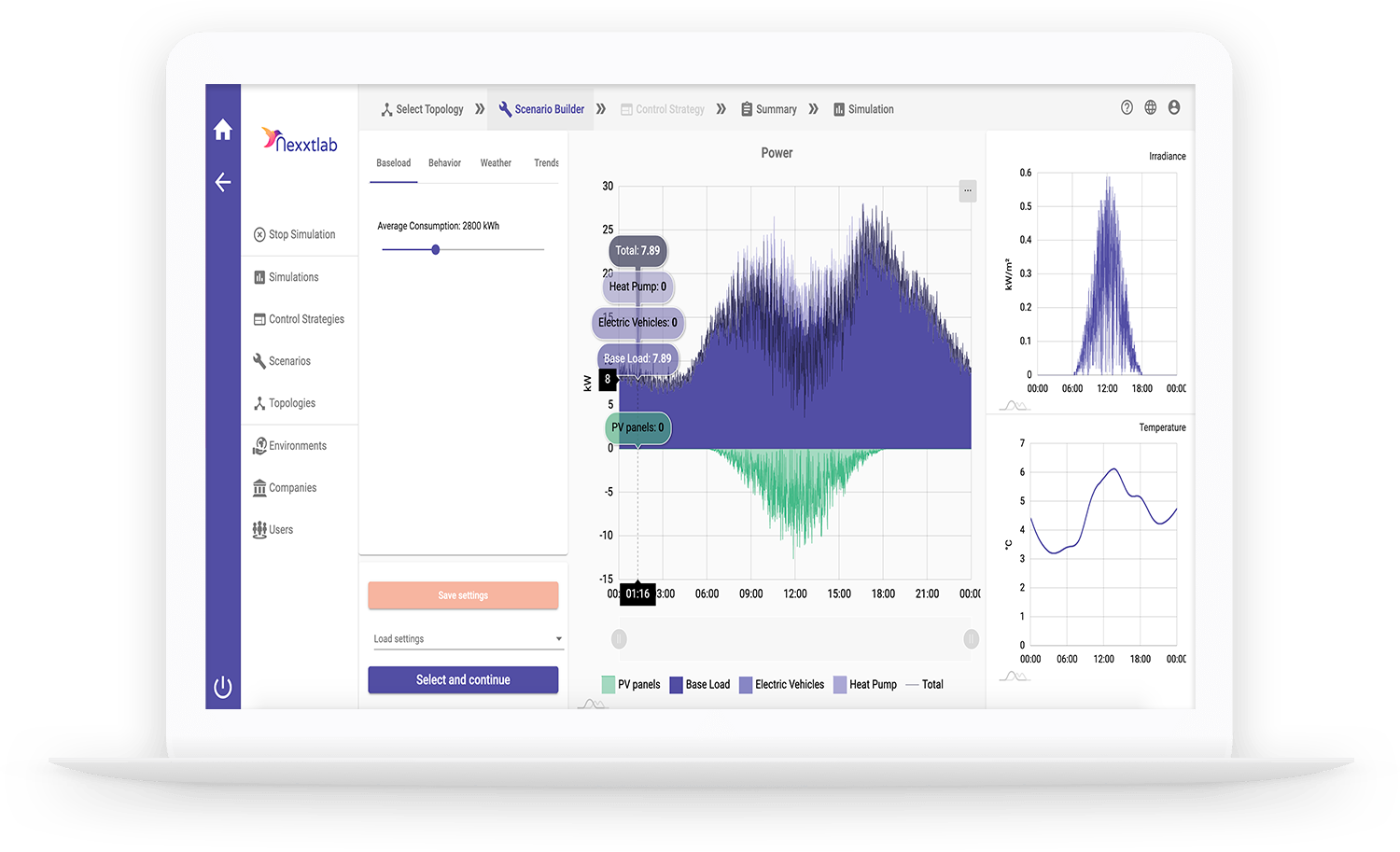 EV SCOPE
An anticipation for EV planning combined with local production.
Charging profiles
With EV Scope you can generate realistic load profiles according different parameters:
Cars profiles: hybrid, small BEV, Large BEV or even you can select the type model of cars in our car library
User behaviours: you can adjust the daily usages of your users and this according to your business activity and rooster
user profiles: select the percentage of intensive mobile users vs home-work users
Simulation
With one click you can run the simulation and look in detail to the graphical interactive visualisation of your power flow
Web front-end
Like all of our applications, we get access to an attractive and comprehensive web front-end allowing you to tune your scenario, apply control strategy and develop your energy transition scenario.
Scenario Definition
With some simple sliders you can define your scenarios regarding your deployment strategy 
EV % per year
Year and installation of your local photovoltaic production 
Climate & weather: Modify weather conditions that impact demand
Control strategies
What is the impact of coordinated vehicle charging, or of incentives for a grid supportive behavior?
With this module you can simulate your targeted control strategy like minimising the grid injection, espousing more flexibility to the grid, optimising the community revenues
Technical and financial reporting
Our solution also includes the necessary reporting  for both the technical dimensioning and main electrical parameters on one side and on the other side we propose you based the necessary financial information to build up a complete ROI calculation
Your benefits
With EV SCOPE, you can define the correct sizing of your EV charging installation.
Also you can define the best strategy for your local production investment in order to maximise your auto-consumption.
EV SCOPE is the pragmatic web tool you need for your company EV strategy.
How to start ?
We can propose you different models of use:
Full consulting activity: based on your data or data that we have collected for you, we run simulation on EV SCOPE according to your request and we present you the result of the mission.

Collaborative: together with your expert, we define a setup allowing you to run directly your simulations and export the results directly on our web tool.